ACNH: New Fish And Bugs Will Appear In December, Are You Ready For Catching Them?
November is about to end, which means that a new month is going to start. New fish, bugs, and sea creatures will also appear. Whether you are in the southern or northern hemisphere, you will meet new critters. But of course, in the northern hemisphere, there will be relatively few new critters than in the southern, because in the cold weather, it's destined to not have many critters for you to meet.
Northern Hemisphere
Fish & Sea Creatures
During December, 5 new fish will appear in the northern hemisphere. To obtain Stringfish, you'll have to catch it within a limited time, but it is worthwhile because it can sell for 15,000 bells. The price of Oarfish is similar, but it is not so rare, because it will be available all day. As for sea creatures, there is only the lobster.

Bugs
The Dung Beetle is the only new bug that will appear in December in the Northern Hemisphere. What is unique is that it is the only bug that can't fly. If it snows, you will find it snowballing on the ground.

Southern Hemisphere
Fish & Sea Creatures
If you are a player in the southern hemisphere, you are very lucky, because you will welcome a large number of new fish, the most valuable Dorado and the Great White Shark. They are worth 15,000 Bells.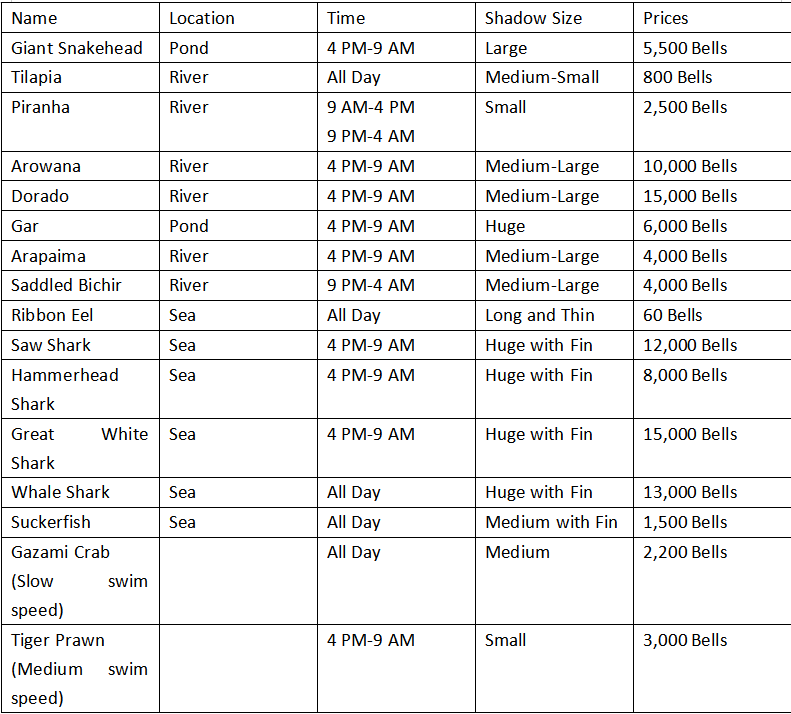 Bugs
This is the new critters that will appear in December. If you want to earn more Animal Crossing Bells, you can catch the most valuable critters and pay attention to when they appear! This way the chance of success will be improved.

If you think this article is helpful to you, you can subscribe to MMOWTS, we will often update related news and game guides!